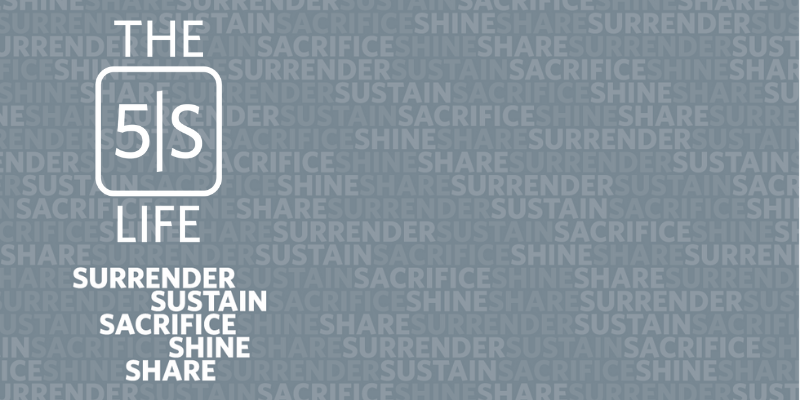 Remember the Five Habits of a Jesus Follower: Regaining Our Sense of Direction
Boy, there has been a great deal of distraction over the past few months between Covid-19, stay-at-home orders, mask debates, political and racial upheaval, global and personal financial volatility, and the stress of school disruptions coupled with working from home. All of this can cause us to take our eyes off our role as Jesus Followers. I think we can all use a reminder of the five habits which we at BVBC have gleaned from Scripture and incorporated into our mission, vision, and ministry plans for several years.
A follower of Jesus Surrenders, Sustains, Sacrifices, Shines, and Shares. Following Jesus is not like going to a buffet where we can pick and choose what we want to do. Following Jesus is a way of life that, biblically understood, incorporates these five concepts that manifest themselves in our lives.
Here are our specific declaration statements that help clarify each of the habits …
Surrender: I will daily submit to Jesus as my King.
Sustain: I will discipline myself to experience God's transforming power.
Sacrifice: I will offer myself to God and others beyond what is comfortable.
Shine: I will reflect the life of Christ as I engage the cultures around me.
Share: I will share my story of following Jesus wherever he places me.
Remembering the habits along with their declaration statements is important to center us as a church and as individuals on why we exist and what we are supposed to be doing. It pushes away the distractions that overwhelm us so we can move forward with confidence as we remind ourselves that God IS in control.
In the past few months some have become angry, depressed, frustrated, gotten mad at someone, caused a rift between friends or family, or have just been disillusioned with the church or life in general. PLEASE consider restoring those relationships, showing grace and mercy, as well as forgiveness to others even if it's not reciprocated.
Let us all remember the habits of a Jesus Follower and get back to doing what we know is most important…Surrender, Sustain, Sacrifice, Shine, and Share.
I love being one of your pastors.
Pastor David