PRAISEFEST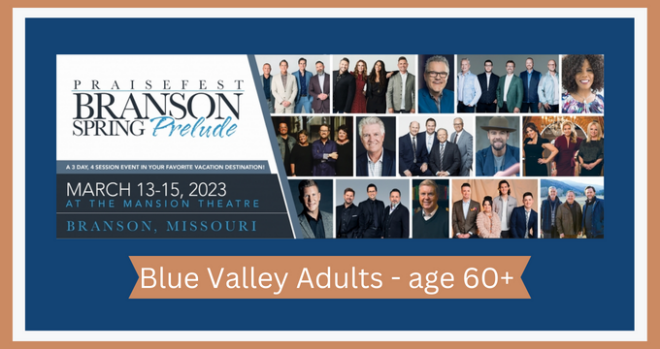 Monday, March 13, 2023 - Wednesday, March 15, 2023
Join us for fun and fellowship in Branson, Missouri! We'll enjoy a full schedule at the Mansion Theatre with musical talent, comedy and special speakers.
The cost is $260 per person (double occupancy) which includes the conference fee, transportation, and hotel with breakfast. (Private rooms are available for an additional $140.) Plan also to cover 4 meals and any optional shopping. We're sure to have a great time together!
A non-refundable deposit of $110 due by December 14. For answers to questions about this event or for registration assistance, please contact Susan House at the Annex office --call 913.897.9669 or email at
Complete form below to register. You may pay your deposit and remaining balance in the Marketplace.