History and Background Information
After several years of discussion among our pastors and deacon leadership, our church voted in August 2016 to transition our governance structure from a senior pastor led church to an elder led church. In accordance with our by-laws, our church authorized an Elder Examination Team to begin seeking out laymen from our church to serve along side our vocational elders (our pastors) as the first lay elders.
Elder nominations are accepted 365 days a year. If you would like to nominate a man in our church you feel fulfills the qualifications of an elder outlined in 1 Timothy 3:1-7, you may do so by completing the Elder Nomination Form.
Meet Our Elders
Jeff Allen

Jeff Allen came to Blue Valley 2017 as the next step in his remarkable journey of faith. Though Jeff came to Christ at a young age, he did so in an environment of deep dysfunction in a family that was essentially unchurched. It wasn't until he and his wife, Lauren, connected with a faithful church in Lee's Summit shortly after they were married that Lauren came to faith in Christ and Jeff began to finally grow in his faith. Jeff's job with BNSF transferred him to Dodge City in 2011 and the Allen's became deeply involved in their local church, working with children's ministry and small group bible study. They have continued that service since arriving at Blue Valley, where Jeff has also served the congregation as deacon. Jeff and Lauren are the parents of five and the entire family worships and serves on the Ridgeview Campus.
Mike Bailey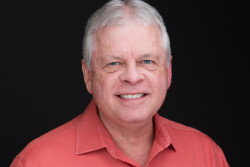 Mike and his family have been members of Blue Valley for almost 30 years. During that time, Mike has served in just about every way imaginable in our church. Mike has served as our treasurer, deacon, finance team member, and occasional substitute teacher in adult and preschool Sunday School. Mike surrendered to follow Jesus during a revival in Humboldt, Kansas in 1980 and was baptized at First Baptist Pittsburg, KS while in college. Mike attends the Antioch campus, along with his wife, Marilyn. His daughter and son-in-law, Kelsey and Jonathan Ferkel also attend the Antioch campus. His son, Adam, and wife Brianna are planting a church in West Des Moines, Iowa. Mike works for Honeywell in Olathe.
Kirk Chastain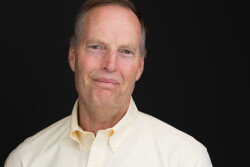 The Chastain family has been a fixture at Blue Valley Baptist Church for decades with Kirk playing a key role during a significant times of transition in our church. Kirk gained deep respect for his steady presence during the time of conflict our church experienced 12 years ago. Kirk has served in a variety of roles at Blue Valley, including longstanding service in AWANA and as a deacon; with multiple terms as deacon chairman. Kirk has also taught Sunday School and delivered children's sermons during children's worship. Kirk surrendered to follow Jesus at the age of 6 at First Baptist Church in Raytown, where he was baptized. Kirk and his wife, Julie, are owners/operators of Robek's, a smoothie and healthy food store in Overland Park, and attend the Antioch Campus.
Brian Hanks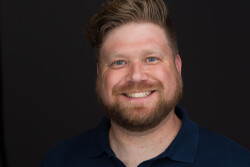 Brian began attending Blue Valley in 2001 and became a member in 2002 with his wife Erin shortly after they were married. Brian surrendered to follow Jesus as Savior at the age of 7 while attending Tyler Road Southern Baptist Church in Wichita. Brian surrendered to a call to ministry in his mid-20s and graduated from Midwestern Baptist Theological Seminary with a Master of Theological Studies. He and his family have engaged a call to missions locally through ministry to refugees at Mission Adelante. While at Blue Valley, he has served as a Sunday School teacher to preschoolers, students, and adults and has also served as a deacon. Brian works as a Lead Environmental Engineer at Foth Infrastructure and Environment and attends the Antioch Campus. He is married to Erin and has four children: Aidan, Ella, and twins, Liam and Reese.
Micah Hayes

Micah joined the BVBC staff in the Spring of 2018. He and his wife Amber have three kids, Charlotte, Benjamin, and Calvin.
Micah received his undergraduate degree in Biblical Studies from Union University in 2013. He then attended the Southern Baptist Theological Seminary where he earned a Masters of Divinity in 2017.
He enjoys date nights with his wife, coffee, reading, writing, and sports.
Jeff Herman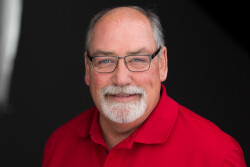 Jeff Herman and his wife, Sheril, joined Blue Valley in the fall of 2008. Jeff immediately began serving as an adult Sunday School teacher, taking a list of folks who weren't connected to Sunday School and tenaciously pursuing them to attend his new class. He and Sheril sat at an empty table on Sunday mornings for many weeks at Sunset Ridge Elementary, where several Sunday School classes met before the purchase of the Annex, and prayed for folks to come. In short order, Jeff was teaching one of the largest classes at Blue Valley and was one of our most beloved teachers. Jeff and Sheril came to Christ as young adults while Jeff was in the Navy and were discipled by one of Jeff's fellow sailors and his wife. Prior to coming to Blue Valley, Jeff served many years as an elder with preaching responsibilities at the church they attended. Jeff is self-employed as a business consultant with J. Herman Consulting. The Hermans attend the Ridgeview campus.
John Hollan


John joined the Blue Valley Baptist staff in August 2007 as Worship Pastor. He and his wife, Melinda have three daughters, Meredith, Lillie, and Olivia.
John is a graduate of Mary Hardin-Baylor in Belton,Texas. He is extremely involved in the Kansas City metropolitan area theatre scene and spends much of his time away from church working on numerous theatrical productions.
Ryan Hudnall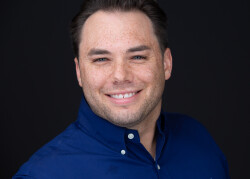 Ryan Hudnall joined Blue Valley in 1999 as a teenager and his been active in our church since that time. Ryan has served as a Sunday School teacher for preschool, students, and adults since 2008, taught Sunday night discipleship classes, has served in a variety of committees in church life; and even served as the interim youth pastor in the summer of 2004. Ryan surrendered his life to follow Jesus in January 1991 and was baptized at First Southern Baptist Church in Liberal, KS. Ryan works at Della Lamb, a community services organization aimed at meeting the needs of low-income families in the Kansas City area. Ryan and his wife, Sadye attend the Antioch Campus.
Wai Lee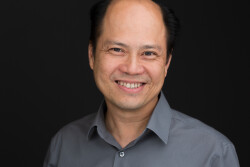 Wai Lee and his family came to Blue Valley during a partnership our church formed with a local Chinese church in 2013. When that church merged with a larger Chinese church a few years later, the Lees stayed behind and joined Blue Valley. Since coming to Blue Valley, Wai has served as a Sunday School teacher, deacon, and helped in our student ministry. Wai came to Christ from atheism as a college student and immediately began to be discipled by other believers, which led him to serve in a variety of ways in local Chinese churches over the years. Wai works for Garmin in Olathe and his wife, Olive, is a stay at home mom to Eunice, Esther, Sarah, Caleb, and John. The Lee Family attends the Antioch campus.
Jonathan Lock


Jonathan began attending Blue Valley Baptist Church with his wife, Jayme and children Andrew and Abbagail in 2008. He joined the BVBC staff in 2011.
Jonathan is a native Johnson County resident and attended elementary, middle and high school nearby. He graduated from Carson Newman College with a B.A. in photography in 2001. He then attended Southwestern Baptist Theological Seminary and received a M.A. in Christian Education in 2005.
He enjoys fishing, woodworking and playing in the yard with his family.
Derrick Lynch


Derrick began serving as Lead Pastor at BVBC in May 2007.
He has been married to his wife, Julie since 1990 and they have two children, Caleb (married to Dani) and Abbey (married to Alex).
Derrick received a B.A. from Oklahoma Baptist University, a MDiv from New Orleans Baptist Theological Seminary and most recently, a DMin from The Southern Baptist Theological Seminary.
He is a lifelong fan of the Kansas City Royals and enjoys quail and pheasant hunting and model trains.
Ricardo moreira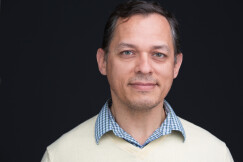 Ricardo was born into a Christian home in Brazil and came to know Christ at the age of 10. As a young man, Ricardo felt God calling him to ministry and he served in a variety of capacities in three different Brazilian Baptist churches. Since arriving in America and joining Blue Valley in 2014, Ricardo (along with his wife Sonia and sons; Daniel, Gustavo, and Pedro) has been active in our ministry. Ricardo's primary place of service has been as one of the leads of our ministry at Rolling Ridge Apartments and he has been instrumental in helping our elders formulate a plan for potentially launching a Hispanic Mission from our Ridgeview Campus.
Jeremy Murphy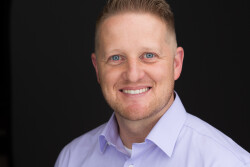 Jeremy and his wife, Mary, began attending Blue Valley Baptist when they moved to the area in 2008 and joined shortly thereafter. Since that time, Jeremy and Mary have been blessed to add three children to their family (Hannah, Jonathan, and Jackson). The Murphys became deeply involved with the church immediately upon joining. While at Blue Valley, Jeremy has worked with the preschool ministry and student ministry, taught adult Sunday School, and served as a deacon. Jeremy began following Jesus at a Christmas Eve service in 1995 and was baptized shortly thereafter. The Murphys attend the Antioch campus and Jeremy works for Honeywell in KCMO.
John Thomas


John grew up in a pastor's home and came to faith in Christ at the tender age of 6. Since joining Blue Valley with his family in 2008, John and his wife Beth have been familiar faces to Antioch Campus worshippers as they have served in the choir and on praise team. John is also one of the "go-to" men to lead worship services when Pastor John is unable. However, he's most significant contribution to Blue Valley over the years has been the extraordinary number of young leaders he has developed through his Sunday School teaching ministry; some of whom are elders! John and Beth are the parents of three and grandparents of four; all of whom serve the Lord.
Elder Emeritus
Jack Canady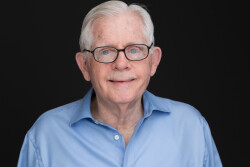 Jack Canady came to Blue Valley in 2008 after a lifetime of vocational ministry. Having served numerous churches as pastor, Jack spent the last 11 years of his vocational ministry life serving as the CEO for Village Missions, which works to keep the church a vibrant and vital presence in over 230 rural communities in the USA and Canada. Since arriving at Blue Valley, Jack (or Pastor Jack as his class calls him) has led the Retired Sunday School class on the Antioch Campus. As their teacher, he has been an active ministry presence in their lives. Jack came to Christ as a 19 year old and is a graduate of Moody Bible Institute & Bryan College.
David Neely

He has been married to his wife, Phyllis since 1981 and together they have three grown daughters, Stacy Listrom (married to Titus Listrom), Kristen and Kara.
David holds a B.S. in Education from the University of Oklahoma. He studied evangelism and missions at Midwestern Baptist Theological Seminary prior to receiving a M.A. in Interdisciplinary Studies at Trinity Theological Seminary.
David enjoys leading the nonprofit Affecting Change International and co-leading The Unfinished Task Network. He also enjoys reading on aviation and military history, hunting and watching movies with his family.
Elder Nomination Form